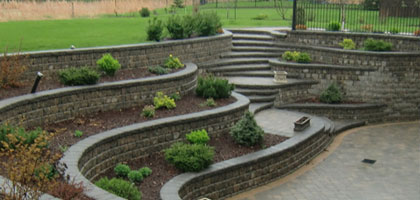 At Veert Landscaping, Inc., we understand the value of a well designed and beautifully built property. A finely crafted landscape-design project reveals your home's untapped beauty and functionality. Our landscape designers and installation professionals will provide you with the expertise and service you want to achieve your dream and vision.
The design process starts with an initial meeting with one of our designers. This meeting includes:
· A needs assessment
· A site analysis
· An initial exploration of design possibilities
Our designer uses the information gathered at this meeting to create a unique custom design, which is then presented to you through a set of original hand drawn landscape plans. From there, one of our experienced construction teams takes the designer's plans from paper to the earth, installing a wide range of landscape elements and high quality plant material.
Professional landscape construction services include:
· Complete landscape construction and plant installation
· Brick, stone and asphalt paving and retaining walls
· Patios & walkways
· Excavation & site grading
· Sod, seed, topsoil, shrubs & trees
Please contact us today to discuss any of the services we offer or check out our portfolio to view samples of our work.