Since 1990, Veert Landscaping Inc. has been serving Manitoba and Western Ontario's residential, and commercial landscape market. A full service landscape company that specializes in both hardscaping and softscaping projects from design conception to project completion. Our team of landscaping professionals take pride in providing a seamless transition between the hardscape and softscape requirements of your
project.
At Veert Landscaping Inc. we utilize a project team of 60+ employees that provide landscaping services for all four seasons of the year. Whether it's a unique residential or a large scale commercial project our team of industry experienced estimators and project management team strive to provide a quality service beyond your expectations. Our employees are certified specialists in design and installation of industry
leading retaining wall systems. Working with professional architects and engineers in our commercial division, we utilize the same practices in our residential division. You can be assured that whether it's a residential or commercial project our attention detail is always key to our success.
Our diverse approach to the landscaping industry has evolved into a company that also provides new asphalt and existing asphalt restoration for your parking lots and pathways. When the snow fly's our fleet of current model service vehicles are transformed into our snow management division who provides services to residential and commercial clients throughout Winnipeg. Due to our rapid growth in the asphalt and snow management divisions we have invested in specialized equipment that is second to none in this industry. Our fleet includes 10 skid loaders both track and tire machines, mini excavators that fit through a 30 inch gate to large track and rubber tire excavators to rip out driveways and build dikes, backhoes, bulldozers, trucks from one tons to semi's pulling 20 yards of limestone. We have over 25 attachments for our machines from concrete breakers, post hole augers, soil conditioners, rock pickers, sweepers, silt fence installers, hydraulic tree forks and hydraulic earth and gravel compaction attachments to provide a quality finished project.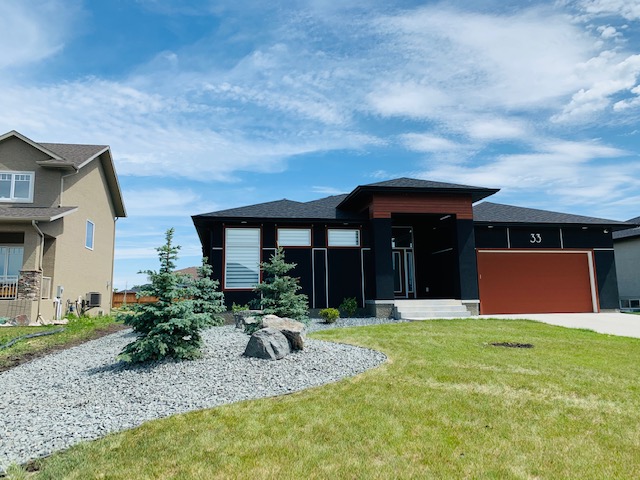 Our milestone projects include complete landscaping services for the McPhillips Street Casino, public walking sidewalks at Grand Beach, structural retaining walls as high as 12 feet, the amphitheater walls at the Forks as well as the 99 Pan Am Games. We have re-sodded the Winnipeg Blue Bomber practice field, sodded numerous Winnipeg city parks and provided complete landscaping packages for Winnipeg malls such as The St Vital Centre. We install thousands of trees each year on City boulevards as well as residential yards. Our paving stone jobs range from walking areas at the Forks to sidewalks at the University of Manitoba to custom designed residential driveways. We provided landscaping services for the recent Floodway expansion.
A properly maintained fleet of equipment and providing employees access to paid professional training is one of the many added benefits of working with Veert Landscaping Inc. We have invested in a large compound to house our equipment and boast a full service shop to that services and maintains our vast fleet of vehicles and equipment.
MISSION STATEMENT
We work with you to provide a landscape solution second to none with hardworking and dedicated
employees with the proper equipment using high quality materials to complete the yard of your dreams.
Paul Veert B.A. Econ
President
Veert Landscaping Inc