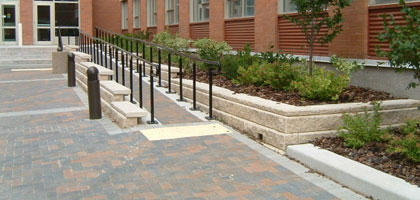 As a business owner, you know that the appearance and safety of your property can have a direct effect on your bottom line. Presenting an attractive, positive image is important, and a well-planned, well-maintained landscape enhances a visitor's impression of your place. Veert Landscaping, Inc. would like to be your business partner, working within your budget; your marketing partner, understanding the importance of a first impression to customers and tenants; and your operations partner, knowing the importance of proactive service.
Our commercial landscape construction team has been honored to install some of Winnipeg's high profile sites including John Coulter Park, The Forks, St John's Ravenscourt, St Paul's High School, Stone Wall Quarry, City Skateboard Parks, and The Football Practice Field for the Blue Bombers.
Our team approaches large-scale landscape installations thoughtfully and thoroughly, with a special emphasis on safety and meeting our deadlines. These projects involve careful coordination of crews, materials and schedules, and our team thrives on this complexity and challenge. We employ over 70 local Operators and Laborers.
We also offer snow removal services for medium to large commercial and industrial properties. We specialize in fully customized snow removal programs, designed to meet your specific needs.
Several key features distinguish our service, including:
Proactive approach: Our crews are dispatched to ensure the most efficient and effective routing.
Weather monitoring: We employ a unique weather service, giving us access to the most detailed, up-to-the-minute information on current conditions and forecasts.
Fleet of on-site equipment: We have trucks, skid steers, Loaders, Graders, Sander and a wide array of other equipment, allowing us to tailor equipment selection to your site.
Skilled, knowledgeable staff: Our team consists of trained, experienced snow removal professionals.
Contact us to discuss any of our services or request a free commercial landscaping consultation.